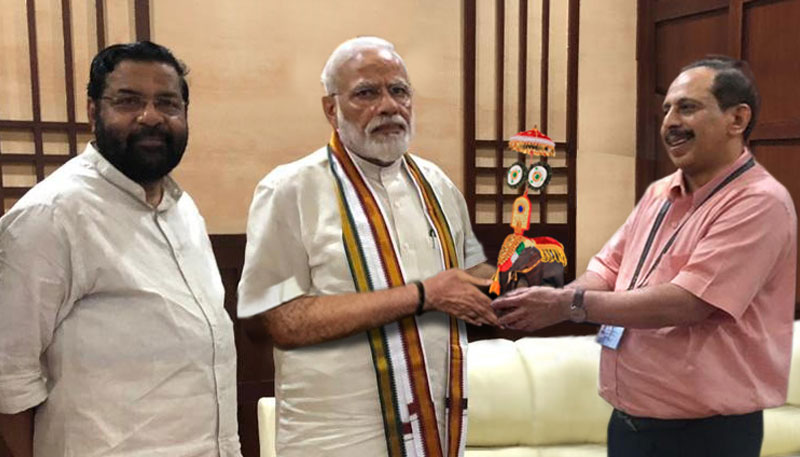 PM Modi calls for CIAL model solarisation in Stadiums
Prime Minister NarendraModi suggested CIAL model solarisation in stadiums of the country citing the importance of achieving power neutrality. In his stop over visit to Kochi airport he hailed Cochin International Airport limited in its success of being the world's first airport fully powered by solar energy.
In a discussion with CIAL's Managing Director V.J.Kurian, Prime Minister endorsed CIAL's effort in deploying green energy for operating an airport which won them United Nations' Champions of the earth award in 2018. "CIAL model of solarisation should be an inspiring model for all other high energy consumers. We have to decipher the possibilities of laying solar panel in possible locations. I suggest the roof of the galleries of stadiums have to be used for that. Achieving power neutrality for big energy consumers is important for our country" - Prime Minister suggested. He also instructed CIAL to render its expertise for the massive deployment of solar energy in tune with the International Solar Alliance (ISA); an organization of 78 countries which was formed by his initiative. As part of ISA's project envoys of 40 countries had visited CIAL's solar power plants during last month. CIAL at present is one of the largest green energy in the country with a total installed capacity of 40 MWp. The airport on an average receives 1.62 lakhs units of power a day whereas the daily consumption stands around 1.52 lakhs units. The airport achieved the status of power neutrality in August 2015.
V.J.Kurian handed over a memento, a brochure to the Prime Minister which includes his tweets on CIAL. Justice P Sadasivam, Governer of Kerala, KadakampallySurendran, Minister, LoknathBehra, State Police Chief were also participated in the meeting.